Artist GNOSIS6, Super ST Style Electric Guitar
---
---
Watch a Demo Video.....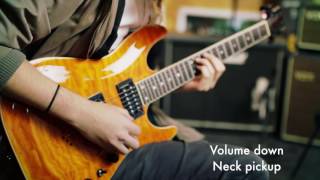 About this GNOSIS-6 super ST style guitar purpose built for Hard Rock, Hardcore and Metal music
This style of electric guitar is loved by Hard Rock and Heavy Metal Guitarists, with or without tremolo bridges, and has become the classic icon of that genre. Lately, during the 2000's, its popularity has surged, becoming the favourite styled guitar for the modern 'Hardcore' music movement. Bands like Periphery, Park Way Drive, I killed the Prom Queen have made this shaped guitar their staple for all out crushing open LOW-Tuned music. Now... it's YOUR turn. 
Our Artist GNOSIS6 ('G' is silent, pronounced 'know-sis') is a 6-String purpose designed standard and drop-tuned guitar that has an all Maple Neck and Basswood Body with Quilted Maple Veneer, Rosewood Fretboard, 24 frets with 'DOT' shaped plastic inlays, a SET-NECK awesome Lead Solo access, tunomatic bridge and string-thru-body design for the best sustain possible. Being Basswood this guitar excels at drop tuning by retaining a tight low end. ***This guitar does NOT come from the factory Drop-Tuned***
It also has a special combination of two Medium-High output Neck Humbucker and Bridge Humbucker, so you can switch from fluid Neck Pickup solo runs and warm clean sounds, to, the Bridge Pickup for Hardcore crunching rhythms, or Shred Guitar searing solos!
The Tech Features
Brand :- Artist
Model:- GNOSIS-6
Neck:- Maple Set-Neck, Truss Rod, 25 1/2' Scale Length, 24 Frets, Rosewood Fretboard with 'DOT' shaped plastic Inlays.
Body:- Basswood with Quilted Maple Veneer
Machine Heads:- Die-cast Black Chrome
Bridge:- Black tune-o-matic style, with String-Thru-Body ferrule ports.
Pickups:-  Neck: Ceramic Bar, D.C. Resistance: 7.2K, Black Bobbins
                  Bridge: Ceramic Bar, D.C. Resistance: 16K, Black Bobbins
Controls:- 1 x Volume, 1 x Tone and a 3-way switch
Colour:- Amber / NATURAL
Dimensions:- 103.5cm x 54cm x 8.5cm
Optional Hard Case to fit this Guitar:- REC300RC