In Stock
Artist LSPSNTL Left Handed Small Body Ultimate Acoustic Guitar Pack
Buy as a Pack And Save!
This pack includes:
1 x Artist LSPSNTL Beginner Left Handed Small Body Acoustic Guitar Pack
1 x Artist STW Guitar String Winder - Black
1 x Artist CFP10 Classical (Nylon String) Guitar Quick Change Guitar Capo
1 x Artist GS001 A Frame Guitar Stand - Acoustic or Electric
5 x Additional Sets of ACST1152 Acoustic Guitar Strings
Not All Acoustic Guitars Are The Same!
This is our Left Handed version of our Lesson Starter Pack range. Our Small Body Lesson Pack (LSPS) Acoustic Guitar Pack is designed with the beginner guitarist in mind.  The LSPS range is a little smaller than our LSP series, ideal for Female players or children from Ages 12+ (depending on height). Imagine how much quicker you will learn with a good quality guitar. With a great sound to inspire you and great design to make it easy to play, you'll breeze through the first stages of your playing.  You'll be playing your first song and impressing your friends in no time!
Receive free exclusive access to video lessons when you buy a lesson pack guitar: 
As an addition to buying your new guitar, we are proud to offer you a series of online lessons designed specifically for beginning guitar students. This series of lessons is designed and presented by our inhouse guitar teacher John Holland. John has over 35 years of teaching experience from beginner to advanced and absolutely believes that the basic fundamentals of this great instrument form an extremely useful base for all practising guitarists.
This is what this lesson pack is all about - the stuff that nobody really tells you at the start of your guitar playing journey. Issues like holding the guitar, using a plectrum and some simple exercises to start you off. So whether you're 7 or 70,  take some time to check out the lesson pack and most importantly - be patient and have fun!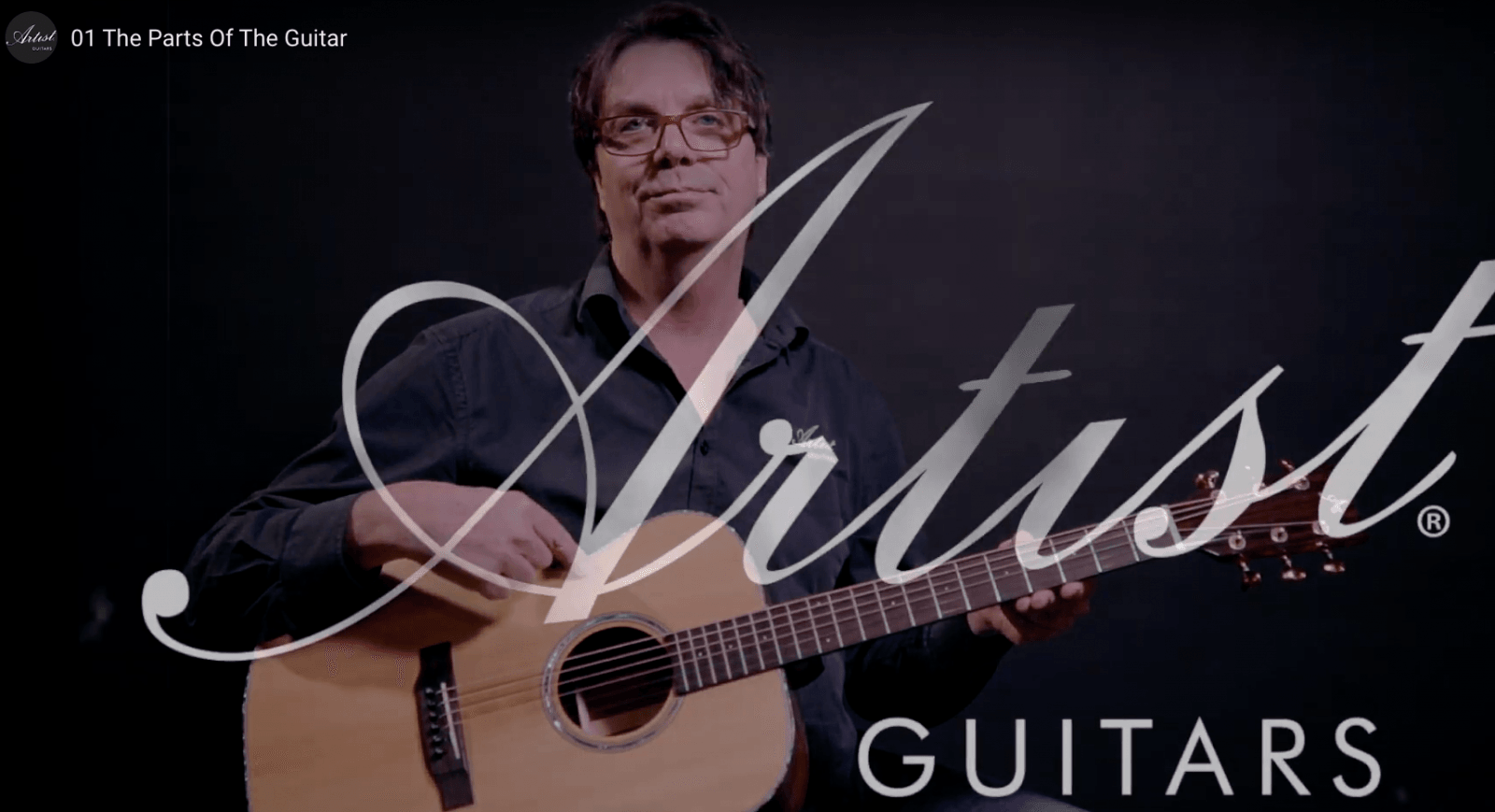 Here are the reasons why this guitar is great:

  It has Steel Strings for a great sound. Watch the video above and have a listen to the audio clip to hear how it sounds.  Most beginner guitars have nylon strings but unless you want to play classical or Spanish music, you may be disappointed. (If you do prefer the sound of a classical/Spanish style guitar we have a range available in our store).

  It has a
 Low String Action
 (all our guitars are set-up at the factory for the optimum beginner playing level). String action is the measurement from the top of the 12th fret to the bottom of the string. This is very important because a guitar with a high action is hard to play, a guitar with too low an action will buzz and sound bad. Artist Guitars are setup at the factory for the optimum level for a beginner.  
  See Above for links to Video  
(The video shows an LSP guitar - this is similar to the LSPS)

  A Truss Rod that allows you to correct for the effects of weather on the guitar help keep the neck straight and the action height the neck can be adjusted.

  Comes included with a Bag to protect your guitar, Strap and Built-In Tuner - A tuner for a beginner is vital.  A guitar needs to be tuned every time you play. As ours is built into the guitar its always in the right place. It's extremely simple to use so you will be using it correctly in no time at all.

  Die-cast Machine Heads - This means your guitar will tune quicker, be more stable and stay in tune longer

   We include a range of 
Support Materials
 including how to tune, how to read tab, basic chord shapes and much more.  

  Our price is always Lower Than a Retail Store (often by 30-40%)  we keep our prices low by only selling our own range of guitars direct from the factory. Our business is built on offering a great value guitar at a great price.




  Artist Guitars has been designing guitars for over 10 years and during this time we have developed a great working relationship with our factories to constantly improve the quality and value - we know how to get a great value guitar at truly unbeatable price!
 
We are so confident you will love your new Artist Guitar that we offer you:

  100 Days 100% Money Back Guarantee, and 


  3-year Warranty
Check out our excellent feedback rating on eBay for what our customers' reactions are.

Why wait to start learning Guitar when you could get one of our great LSP guitars and be playing in no time at all (We ship super fast)

The LSPS Guitar Pack Includes:
LSPS Small Body Steel String Acoustic Guitar
Built-in Fully Chromatic Tuner
Gig Bag to protect your instrument (with backpack style straps and pockets for your picks, extra strings, music)
Guitar Strap
2 Medium Gauge Guitar Picks
A Spare Set of Strings
Our range of Lesson Pack guitars have been designed with the needs of beginners - we don't offer a confusing range of models in this area as we think getting the correct size guitar is the most important thing for a beginner, once you have been playing for a while you will find it much easier to know which style of music you want to play and we can recommend a great 2nd guitar for you. 

The Lesson Pack range comes in 3 sizes:
| | | |
| --- | --- | --- |
| LSP: | Full Size Body | Full Scale |
| LSPS: | Small Body | Full Scale |
| LSP3/4: | 3/4 Body Size | 3/4 Scale |

The LSPS is an ideal beginners guitar suited to adults or younger people (from 12 up)  -  If you're on the smaller (or younger) side we suggest you check out the LSPOM range or smaller.  If the information is confusing and you would like some free advice just call us on our Toll-Free Number so we can help you to choose the perfect size for you.
The Tech Features
Brand:- Artist
Model :- LSPSNTL
Body Size :- Left Handed Full Sized OM Small Body Acoustic
Length:- 40'
Scale Length:- 25.5' 
Woods :- 
Top - Laminated Spruce
Back and Sides - Laminated Sapelle
Neck :- Wood - Okoumen, 20-22mm Thickness with Trussrod, 43mm ABS Plastic Nut
Fingerboard:- Eco Rosewood , 600mm Radius, 6mm Front Fret Dots
Bridge:- Eco Rosewood with ABS Plastic Saddle , 8.5mm Thickness
Frets:- 20 Frets, 1mm 2.0 White Copper Fretwires
Machine Heads :- Die-cast Chrome
Binding:- 
Body and Fingerboard - Ivory White Binding
Front - 5 Line White Binding
Back - 2mm Ivory White Binding with 1 Black Line for Middle
Strings:- ACST1152, 11-52, Custom Light, Bronze
Included Accessories :- FT201 Built-in Chromatic Tuner, Neck adjustment Allen key,2 Strap pins , 2 Celluloid Picks, Strap, Spare Set of Strings, Soft Case
Colour and Finish:- Transparent Natural Gloss
(15065)